Chr22_035_045 Henderson/Millar; ?McKenzie or ?Sullivan? home page
On this page:
Introduction
Names/places
Wanted!
Chromosome Map
Google Group
Introduction
Welcome to the home page for those sharing a segment of dna on chromosome 22 who are trying to figure out which ancestor is responsible for that.
We already know that two matches share William HENDERSON and Helen Sinton WIGHT.
This couple married in 1876 in Oamaru, Otago, New Zealand, having separately emigrated from Lanarkshire (but with Stirlingshire/Perthshire origins) and Roxburghshire on the Scottish Borders respectively.
Another match's only Scottish ancestral line is that of James Mann McKenzie who arrived in Auckland, New Zealand in 1842 on the "Jane Gifford" with wife Ann and children, originating from Nairn in Scotland (I've yet to verify this as their origin, only so many hours in a day).
But their Irish line may also be a possibility? That of Phoebe SULLIVAN.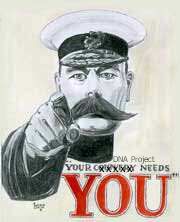 To date we have test results from:
two descendants of Charles and Phoebe (SULLIVAN) LEOV from a different line than that of Charles Sullivan & Jane (TURNER) LEOV, and
a descendant of James Mann McKENZIE's daughter Matilda (marr. Charles TURNER 1870, Marlborough, NZ) from a line other than of the Jane TURNER who married the son of Charles & Phoebe LEOV


This latter provided an intriguing other match, but nothing conclusive as to whether we can rule in or rule out the McKENZIE ancestry for this match, and likewise nothing conclusive as to the SULLIVAN connection.
Names/places
Henderson/Millar ancestry of Stirlingshire/Perthshire Scotland assumed.
?McKenzie or ?Sullivan?
Wanted!
In order to help refine which ancestor(s) of our matches are responsible for the shared/inherited DNA it is very useful to have a range of tested descendants.
We would therefore particularly love to hear from descendants of any of the following who either have joined in the fun of autosomal dna testing, or who may be interested in doing so (see
DNA Groups
page for further information).
Links are to either
WikiTree
or
FamilySearch
, both collaborative one world trees where it is free to register and contribute.
With known descendants in the tested gene pool the matches become easier to assign to specific ancestral lines for further investigation of links between matches where the links are not known.
Chromosome Map
If registered for the site, you may find a map of the dna segments involved in the Histories link in the sidebar.
Some of the people mentioned are linked to their tree in DNAGeds tree
Do NOT believe such trees without verification as they are merely quick research into possible areas to explain dna matches.