Chr03P_171 Home Page Group Home Page
On this page:
Introduction
Names/places
Wanted!
Chromosome Map
Google Group
Introduction
Welcome to the home page for those sharing a segment of dna on chromosome 03 and trying to figure out which ancestor is responsible for that.
Although all I know is that it is a paternal side link from my viewpoint, it is currently believed that the segment has a lot to do with the Scottish Borders,
this being based on two of the matches sharing the common ancestral couple of Joseph HARDGRIEVE and Alison RUTHERFORD.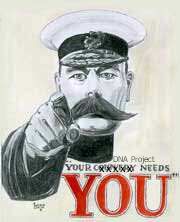 Names/places
As the family of Joseph HARDGRIEVE and Alison RUTHERFORD has potentially interconnected RUTHERFORDs involved, it is possible that there is a RUTHERFORD connection to the WIGHT/SINTON family somewhere in the past.
This tentative theory is based on the strength of the matches to descendants of Joseph/Alison being much stronger with the one who has a couple of RUTHERFORDs in their ancestry, than it is to the one with only Alison.
Wanted!
In order to help refine which ancestor(s) of our matches are responsible for the shared/inherited DNA it is very useful to have a range of tested descendants.
We would therefore particularly love to hear from descendants of any of the following who either have joined in the fun of autosomal dna testing, or who may be interested in doing so (see
DNA Groups
page for further information).
Links are to either
WikiTree
or
FamilySearch
, both collaborative one world trees where it is free to register and contribute.
With known descendants in the tested gene pool the matches become easier to assign to specific ancestral lines for further investigation of links between matches where the links are not known.
Chromosome Map
If registered for the site, you may find a chromosome map of the dna segments in the Histories link in the sidebar.
Some of the people mentioned are linked to their tree in DNAGeds tree
Do NOT believe such trees without verification as they are merely quick research into possible areas to explain dna matches.